The Sky Blackened.Something was happening. Ino sighed. Its gonna be okay. Then a high pitched scream happened. Naruto blacked out. Kakashi was gone. Sasuke was the only one standing. A voice could be heard. It was a familar sound to Sasuke.
It whispered Foolish. Foolish Over and over. The little Genin Prepared him self. But he had to get his team members out of there.
A little backtrack. Sasuke Ino and Naruto (Team 10) Were training in the Training Field.
Sasuke Carried Ino somewhere safe. Naruto Awoken. "Teme? Whats going on!?" Sasuke Scoffed. "Like I know.."
"
Its the one...Its Itachi. I must kill him here and now...!
" Sasuke was having a backflash.
"Big brother what are you doing?" *SLASH!" AHHH! "Brother..?" "Go away Sasuke! NOW!" *Sasuke ran off crying* There was blood on the walls It was the end of The Uchiha clan. And Sasuke knew it, But he didnt want to believe it. "Brother Itachi? Dont kill Aunt and Uncle!" Sasuke pleaded to his brother. But they were long dead. "Im Having pity on you. Go Sasuke. But you wont be so lucky next time" Itachi Stared at His little brother. Sasuke Stuttered. "GO!" And Sasuke ran off.
Ino sooner or later awoken. "Sasuke-Kun Whats going on? I can't see anything? I'm scared..." *SLASH* Ino's arm was cut. "SASUKE! Someone- or something cut me!!??" Everything turned red. They were stuck in the Sharigan.
"Teme...!" "Sasuke-KUN!?!" They called out to Sasuke. They were dying the most horrible way possible. Sasuke was losing his friends. He was losing Ino and Naruto. "DOBE!!!!!" "INOOO!!!!" Ino was close to dying. Naruto escaped from it. Somehow.
---
Ino.. No!! Sasuke Ran up with a Chidori and hit Itachi. Itachi was dazed and Sasuke Picked up Ino and ran off. "Teme? EH! IMA RUN NOW!!!"
"Sasuke? Ino will be good as new in good time!" Shizune laughed. "Sasuke-kun I cant thank you enough for saving me.." *Ino hugs Sasuke* *Sasuke and Ino blush*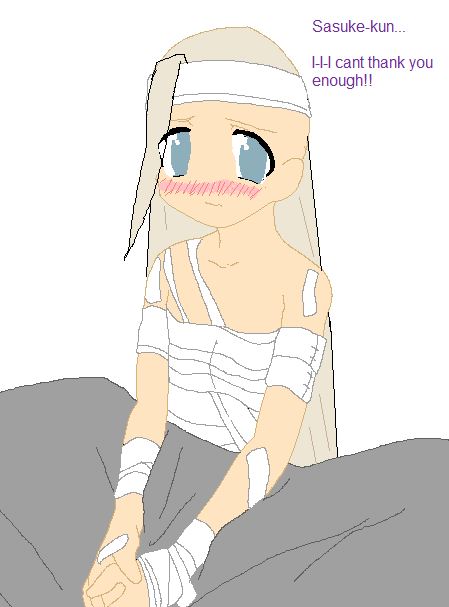 base by Doomy-pixels. Slight Sasuino in story btw. I love sasuino. MAybe huge sasuino xD
"So.. Umm. >.> Ill see you later Sasuke-Kun.." "Yeah Ill see you to..Ino." *Ino Giggles* "You dont call me Yamanaka anymore!" "So?" The sun set and Ino got some rest.